Awarded, we are Top Innovator 2021!
Awarded, we are Top Innovator 2021!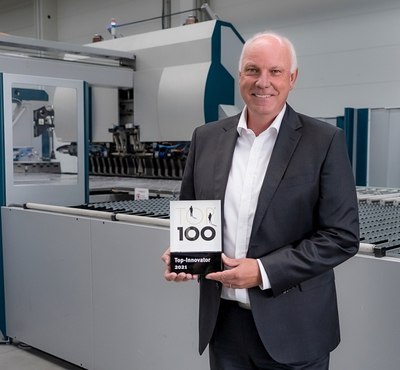 The TOP 100 innovation competition is about the question of whether innovations are the result of a planned approach or a product of chance. And it's about whether and how the corresponding solutions succeed on the market. To this end, our company was assessed by innovation researcher Prof. Dr. Nikolaus Franke and his team on the basis of 120 test criteria. STÖBICH was able to score in all five categories: Top Management Promoting Innovation, Innovation Climate, Innovative Processes and Organization, External Orientation/Open Innovation and Innovation Success.
We are particularly proud of our impressive number of over 200 patents worldwide, but the special category on handling the corona crisis also put us far ahead. Here STÖBICH has reacted quickly with mobile workstations and expanded contactless sales solutions, from VR presentations and digital trade fair booths to the new product videos.
Another special highlight awaits us in the fall: on November 26, all award winners of the current TOP 100 year will come together in Ludwigsburg. At the 7th German SME Summit, Ranga Yogeshwar will congratulate us personally on our title. The science journalist has been mentoring the innovation competition for ten years. We are looking forward to it!